Our Services
Chiropractic : Reliable and Effective Relief Care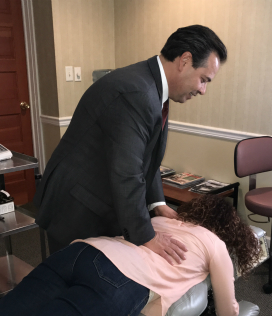 Dr. Dragonas prides himself on quality care, using a variety of highly regarded options in his repertoire of treatment modalities. Best of all, Dr. Dragonas is able to craft completely unique treatment plans for each individual patient that are specific to their own needs. Your treatment plan may include one or a combination of the following, including:
Chiropractic manipulation
Spinal Decompression
Soft and deep tissue massage
Myofascial Release
Flexion/Distraction techniques
Ultrasound, Infrared
Electrical Muscle Stimulation
Therapeutic Exercises
Additional Services
At least 80% of patients respond optimally to chiropractic services alone, but in the case where results are delayed, the tools and the expertise to take care of almost any health challenge are readily available. In addition to chiropractic services we also offer Nutritional Counseling.
We're always here to help in any way we can, even if you feel that the problem is "hopeless".
---
Sokratis Dragonas, DC PC | (908) 233-4200